If you're ready to rock...
Have your ticket ready. You will be prompted for the username and password on your ticket stub.

1) Click on the "Access RSVP Form" link below.

2) When prompted by the pop-up window, enter your username and password to access the RSVP form. Can't log in? Make sure you enter the username and password exactly the way it is printed on the ticket. The user/pass are case-sensitive.

3) Enter your name, e-mail, number of guests in your party, and any questions or comments in the form, then click the "RSVP NOW!" button. You should be redirected to an initial confirmation page. You will later recieve a personalized e-mail confirmation.

IF YOU DO NOT RECIEVE E-MAIL CONFIRMATION WITHIN 48 HOURS OF SENDING YOUR RSVP, PLEASE CALL THE NUMBER ON THE TICKET STUB OR CONTACT US VIA E-MAIL.




RSVP is CLOSED! Thanks for attending our event!



Still can't log in? You may also RSVP by calling the number on the ticket stub.

Do not attempt to crash our wedding, or else you will be escorted out by our personal bodyguard, Bob.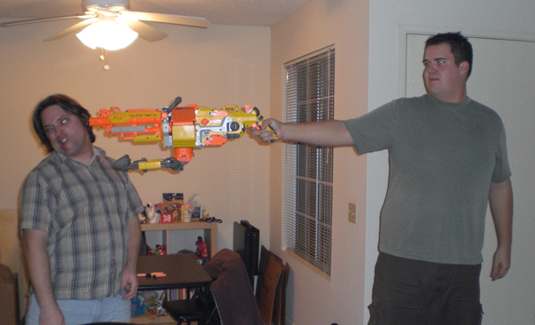 Left to right: Bob-Angerer, Angry Bob. (Please avoid confrontation. Please do not anger The Bob.)