Wed Zeppelin: Live! at the Abbey
Katherine Valdoria and Benjamin Peterson
Saturday, October 3, 2009
ABOUT KATHERINE

According to her parents, Kathy has been musically-inclined since infancy. (Few Valdorias aren't.) She was born in the Philippines but raised in Chula Vista. About a year after attending UCSD, where she earned her B.A. in Interdisciplinary Computing in the Arts, she became friends with experimental musician Michael Chadwick, who lent his unique improvisational guitar stylings to their duo, Pure Yellow Colour. While she was still in school, PYC toured the central San Diego cafe circuit. However, the band quietly dissolved due to irreconcilable creative differences. Kathy still occassionally writes records independently for her own label, MewKat MewSic.

After graduation, she moved to Rancho Bernardo where she met Benjamin Peterson, with whom she would begin the collaboration of a lifetime. She never ceases to be amazed by Ben's love and support. When she is not rocking out with Ben or working on a random art or music project, she teaches (LEGO) robotics at various elementary schools.
ABOUT BENJAMIN

Born into a tech-savvy family and raised in San Diego, Ben landed a job at Sony that combined his nerd lifestyle with his passion for video games. His first taste of celebrity came with winning a lead role in the internet cult comedy, ./shutdown. Less than a year later he teamed up with the legendary Katherine Valdoria. Ben was drawn to her artistic talent and knew right away that the two of them were destined to rock each other's worlds.
HOW WE MET

Ben saw Kathy's profile on an internet dating site. After watching his internet sitcom and confirming some mutual acquaintances, she invited him to a combination housewarming/Halloween costume party she and her then-housemates were throwing. Ben, who had just finished filming an episode of ./shutdown, appeared on her doorstep dressed as a ninja with a Guitar Hero wireless controller strapped to his back.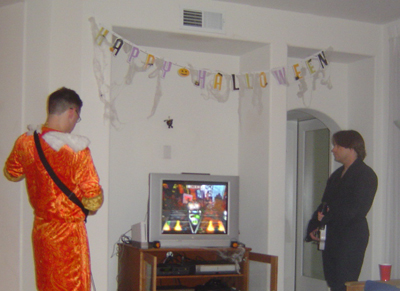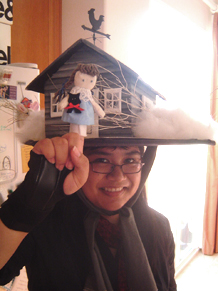 Left: Guitar Hero Faceoff! Burger King Mike Chadwick vs. BeNinjaMan. Right: Kathy is the Wicked Witch of the East, Mid-Smush.

After the party and a private pep talk from some good friends, she walked him to his car and invited him to a PYC performance on the following night. Two weeks later, they were dating and inseparable.

HOW WE GOT ENGAGED

October 26, 2008 marked Ben and Kathy's one year dating anniversary. That morning, Ben and Kathy exchanged gifts. Kathy had sculpted for him a tiny octopus holding a pink heart. To her chagrin, Ben gifted her a set of jars for the kitchen. To his credit, she had been wanting to purchase a nice spaghetti jar, and Kathy wasn't expecting anything more than a nice day together. She knew this was the sort of utilitarian gift he would give a family member, so it wasn't exactly met with extreme disappointment.

After they exchanged gifts, they hopped in the car to head off for a nice breakfast. Ben had arranged it so that the first song to play as they left was Skye's Love Show, which was really meaningful to her because he had originally sent it to her shortly after the Crazy October Wildfires of the previous year. This song was partly responsible for bringing them together.



They breakfasted at IHOP, a restaurant they used to patronize regularly during their first few months of dating. Then they went to the Birch Aquarium and looked at unusual aquatic life and touched the sea anemones. They had a bit of time before dinner, so they drove up the coast, enjoying the view before parking and making out like teenagers.

Afterward, they drove to Sony to get the anniversary card Ben claimed he'd forgotten at work. When they parked, he asked, "Are you planning on just waiting in the car, or are you going to come and make out with me in my office?" Kathy had been planning on staying in the car, but when Ben put it that way, she couldn't refuse.

They walked into his office, and it takes a second for Kathy to register that her card is sitting on top of a fully-assembled AeroGarden, a glorified kitchen gadget she had longed for but could never justify getting. She had finally convinced herself she didn't need one, but was thrilled to receive it.

She walked over to it and read the card, in which Ben had written "Let's make the next one of these a wedding anniversary!"

To which Kathy replied, aloud, "So, is that a proposal?"

He answerd, "No," and laughed.

She laughed, back. "Oh, so it's kind of like that e-mail you sent me when I was really upset about missing my CMS appointment and you said, 'We'll get married and then you won't have to worry about insurance.'"

"Yeah," he said.

Then they inspected the AeroGarden together. "Did you know you can order custom seed pods for this thing?" he asked.

"Yeah, I wanted to get the one with the flowers."

He picked up one of the little seed pods and held it out to her. "That card wasn't a proposal, but this is."

In the little seed pod was a ring!

"I was hoping you'd notice it. I was going to make a cheesy joke about having all the Thyme in the world, but you didn't look closely enough at the pods. Then it occurred to me that I could see the ring clear as day because I knew it was in there."

Ben asked again if she would marry him and Kathy tearily said yes. Then they had a very yummy dinner at Sakura... but not before sending out a mass text message announcing the news.

THE BIG SHOW

Far from being a traditional girl, Kathy has always joked that if she ever got married, "It would be me, him, and the shaman in a hot-air-balloon." Lately, though, she has come to realize the importance of sharing such a momentous occasion with loved ones, and so she and Ben needed to come up with a fun and unusual ceremony that would also be more inclusive.

With Ben being an avid gamer and Kathy loving to sing, it was only natural for them to decide that Rock Band should be the vehicle for their rock-show-themed wedding. Thus, Wed Zeppelin was born.

Wed Zeppelin's debut performance will be at the Abbey in San Diego on Saturday, October 3, 2009. Please see Guest Info for more information.

WED ZEPPELIN ENTOURAGE/CONCERT CREW

Michael Chadwick, Opening Act
Katie Larson, Iron Maiden of Honor
Bob Larson, Elite Security
Sheryl Valdoria, Diva Handler
Andrew Peterson, Roadie
Michelle Osorio, Mistress of Ceremonies